XJAnalyser是对一个实时电路可视化展示与调试的强大工具,它对JTAG链进行图形化的显示,并可完全控制JTAG链上器件的每个引脚,设置每个引脚的状态、给每个引脚赋值。并且可以运行SVF和STAPL/JAM文件。Watch Demo Video
特性
能够测试BGA封装的和小口距的芯片;
运行时仅需要BSDL文件;
设置引脚状态–低,高,触发;
跟踪短路,开路和其他信号;
易于从底层访问器件引脚和总线;
以缩放和分屏清晰显示器件引脚状况;
快速查找和检测变化的引脚;
用SVF和STAPL文件对编程器件;
即插即用;
实时交互。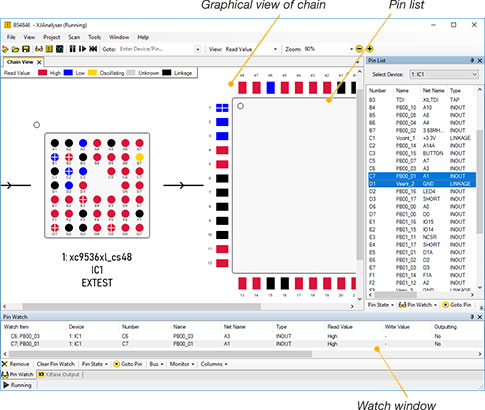 对JTAG器件引脚的控制和监测
引脚值可设置高或是低,或是在一定时间内慢速或是快速触发, 所有这些一键即可实现。引脚值可用预先设置的颜色来显示。引脚的属性也可通过预先设置的颜色来表示如输入输出。
XJAnalyser可实时检测JTAG链上器件的所有引脚的值和属性,甚至BGA器件。
器件编程
XJAnalyser 能运行SVF和STAPL / JAM 文件。
强板比较
在已知良好的目标板的JTAG器件上用户可获取其驱动值。通过这些值可鉴别好板与问题版之间的差异。
JTAG 链调试
XJAnalyser 用于帮助调试JTAG链,能够反馈和检测到这些芯片的IDcode。获取更多信息,请点击这里。
Pin 窗口
您可以在器件上,选择引脚,放置在一个观察窗口,单独观察围绕它们的所有引脚的变化。
这个引脚窗口也同时针对大数量的引脚,将其设置为总线;赋值给总线,即设置了所有引脚。
放大 / 屏幕划分
通过XJAnalyser能够灵活地观察电路,可整体或是分割,用户可自定义区域大小。也可以分屏,对于电路中不同的部分,进行不等的放大。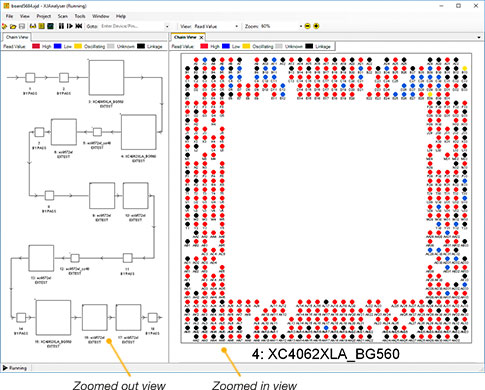 执行链 / 单步调试
XJAnalyser 可持续执行JTAG循环内写-读任一操作,并立刻反馈信号变化的信,或是在用户控制下重复信号周期,允许每个周期之间手工改动。
转化器件几何图形
如果器件的几何图形在BSDL文件中被规定是不正确的,或是未规定,你可以改变一些引脚的任一边,以反映实际的几何形状.还有一个旋转器件的选择。
Waveform Viewer
The Waveform Viewer captures and displays the digital signal levels and transitions of JTAG chain data.
It supports triggering, allowing circuit behaviour to be captured under specified conditions, such as when particularly events occur. This can greatly improve an engineering team's ability to capture key information and track down intermittent faults.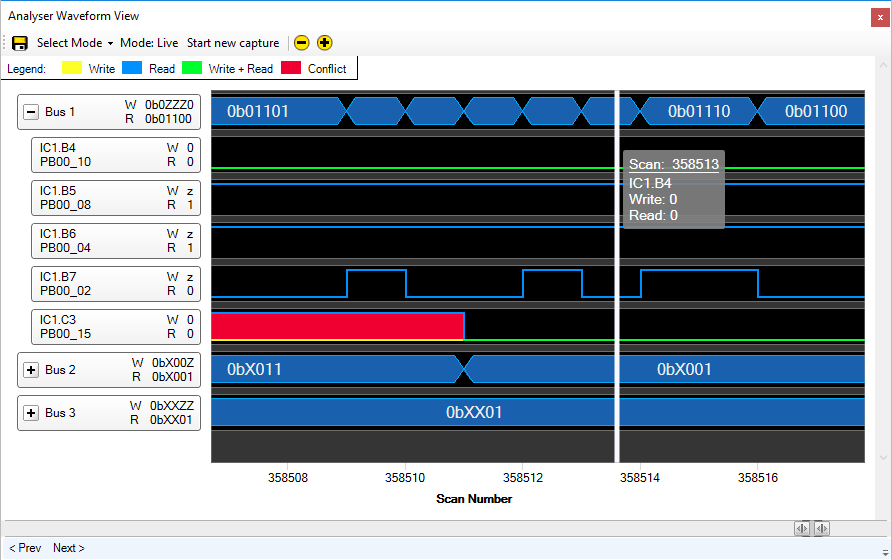 "即插即用"配置
当连接电路时,运行XJAnalyser,它将自动审核JTAG链,并且从库中识别正确的BSDL文件,准备运行测试。
推荐系统要求
Intel® Core i3, i5, i7 processor or equivalent (any generation)
Microsoft® Windows® 7, Windows 8.1 or Windows 10 (32 or 64 bit)
4 GB of RAM
---
For support, or for a quote on any part of the XJTAG system, please contact us.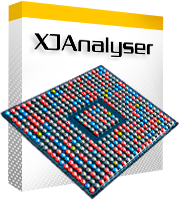 对BGA和细间距器件实时、逐针的控制
通过SVF/STAPL/JAM文件进行在线烧写
简单的四步设置向导
---
主要优点
可增加产量 — 通过设置引脚值和追踪信号变化,你也能快速调试您的电路板,即使是BGA器件的电路;
可通过缩短从原型到生产的时间,从而缩短产品上市的时间;
节省预算,对可编程器件,不需要额外的下载工具。
---
灵活的授权许可选项
硬件许可
–保存在JTAG控制器中,这样您可以在任意数量的电脑上使用XJTAG
网络许可
–保存在一个联网的许可服务器上,可以从世界上任何地方访问