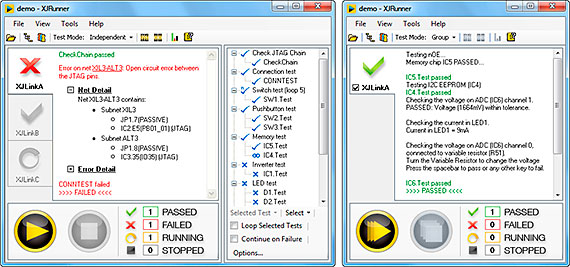 简单,可靠,经检查的生产测试
XJRunner测试是从一个加密文件加载,这个文件包含设计和测试工程师在XJDeveloper测试系统中创建的测试工程的压缩版。这意味着你的测试不能在生产环境被更改。一致性保证了你可以通过复查电路板测试的日志文件来查看测试过程。
XJRunner有个简单的Run/Stop,Pass/Fail界面,使得首次测试只需要简单的点击操作,非常适合生产线。
Multiple XJLink或XJQuad让你可以最多同时测试四个电板,或是独立地使用各端口,通过不停地拔掉一个完成测试的电板,插上一个新的如果测试还在其他端口运行。
用户管理
XJRunner 有几种不同级别的用户,标准用户,只能在一块目标系统上运行整套测试,对于高级用户,可执行更为复杂的测试并且进行项目管理。
每个操作员可以有各自的登录账户。这样可以限制每个操作员只能使用他们培训过的XJRunner功能。而且这样在后期的复查中,也能知道是哪个操作人员测试的。
诊断测试
高级用户,可重复在板的任何一个或是所有的测试,以便能追踪系统发生的故障。
XJRunner原来的输出提供故障类型的详细信息以及包含的网络。除此以外,输出信息中还包含了一些可点击的链接,使故障非常容易地就能在Layout Viewer中显示出来。通过显示网络线路,Layout Viewer能显示潜在的有问题的区域,帮助用户找出故障的位置。
Layout & Schematic Viewers included
If any faults are found when running tests, the Layout Viewer and Schematic Viewer* can be used to locate and understand the faults on the board by showing the schematic design and the physical routing of nets, which highlight the potential problem areas. You can also quickly find any component, pin or net in your circuit when trying to pinpoint a fault.
In order to use the Layout Viewer you'll need to use ODB++ when developing the project or the target system.
* For manufacturers to use the Layout and Schematic Viewers in XJRunner, you have to explicitly export the relevant information from XJDeveloper. Conversely, if the information needs to be kept confidential, do not export it to XJRunner.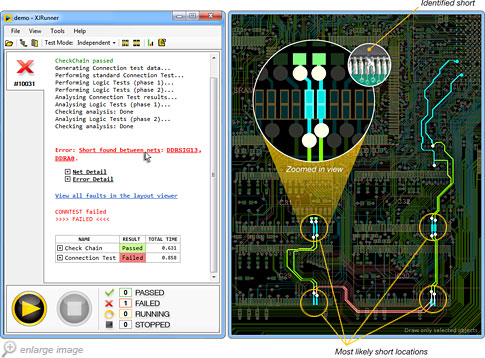 日志文件
记录所有测试的输出量。有一系列的日志记录选项,无论选择什么都会被记录(时间,日期,序列号,用户信息,等等)和如何对所有日志分类(例如 保留同一文件中对同一个目标的所有输出量)。
序列号
XJRunner 针对一套系统可简单生成序列号。或者更为复杂的(例如 MAC 地址),可通过XEase代码创建,或是直接输出(例如条形码阅读器)。
易于携带测试
所有运行测试的文件可打包成一个XJPack文件,使得转移测试到不同的电脑和地点更为方便。
特征
XJDeveloper测试的运行环境;
简捷,易控制执行测试;
处理各种序号体系;
用于审计依据的日志文件;
对可测试操作者严格的用户登陆验证;
Fault Dictionary to capture the expertise of your engineers
Two modes for simultaneous board testing
Board statistics and fault trend analysis
Physical location of faulty nets can be displayed visually in the Layout Viewer
Circuit design around faults can be viewed in the Schematic Viewer*
推荐系统要求
Intel® Core i3, i5, i7 processor or equivalent (any generation)
Microsoft® Windows® 7, Windows 8.1 or Windows 10 (32 or 64 bit)
4 GB of RAM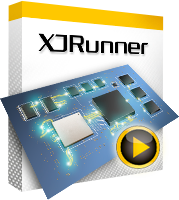 ---
主要优点
通过配置日志从而改善QA;
如果委托第三方测试时,可保留对电路板测试方法的控制权;
友好的用户环境,可降低生产人员的培训费用;
通过使用多个XJLinks,可同时测试多块电路板。
---
灵活的授权许可选项
硬件许可
–保存在JTAG控制器中,这样您可以在任意数量的电脑上使用XJTAG
网络许可
–保存在一个联网的许可服务器上,可以从世界上任何地方访问