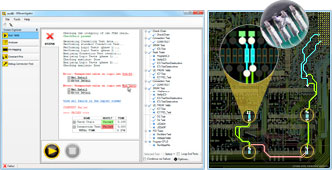 Fast in-circuit testing and programming without the expense and complexity of a bed-of-nails fixture, even for BGAs. Recover non-booting boards where functional test would not work.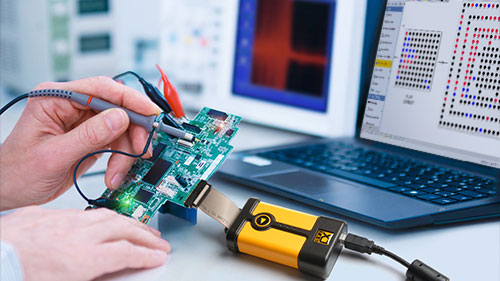 Get manufacturing level prototype testing on the engineer's bench, long before firmware. Develop tests in hours using the built-in model library. Find more faults than with other JTAG solutions.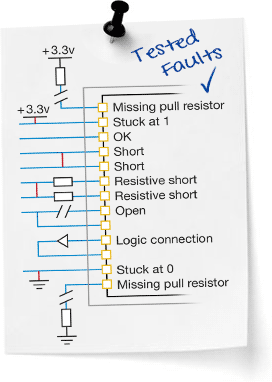 Frequently Asked Questions
What will I receive with this trial?
You will receive a full XJTAG system – including a USB JTAG Controller, demonstration hardware, cables and tutorials. It includes the XJTAG software suite with full functionality and a 30-day license. During this period XJTAG's support services are fully available for any questions you may have.
When will the product trial be available?
Depending on your timescales, we can target the trial to start when you are ready, any time from next day to next quarter. If you are looking to take advantage of our free test setup offer, then it's good to plan ahead so we can schedule in the work.
Are there any limitations in the trial version?
The tools provided for evaluation are fully functional, so all features of the products are available for you to try out.
What is a Free Test Setup?
If requested, XJTAG will set up its test system and one development project on your own electronics when you take a 30-day trial.
Can I have the trial only, without the test setup?
If I want a test setup with my trial, what do I need to supply?
To set up your board, we will require the following (under Non-Disclosure Agreement):
Circuit diagrams for the board as a PDF that can be searched.
Netlist(s). We support over 85 netlist formats (including RINF, EDIF, Protel, PADS-PCB and any ASCII netlists).
Details (including BSDL files) of custom JTAG-enabled parts fitted on the boards (if any).
Ideally, we prefer to get the tests up and running on your board. If you would like us to complete this last stage, we will also need access to a board.
What resources are available to help me evaluate the system?
The XJTAG system comes complete with an XJDemo board and interactive tutorials to get you started with developing your first test system with XJTAG.
You will have access to XJTAG's device test libraries and latest S/W upgrades, during your evaluation period.
Can I get technical support or help for my trial version?
We are proud of our support and as with all aspects of the tools, during the evaluation, we encourage you to try it. We provide full technical support by telephone, email and web meeting, to help with the set up or troubleshoot any issues.
For additional help, we recommend searching the XJTAG Blog to find focused answers to specific questions.
What are the system requirements?
Recommended:
Intel® Core i3, i5, i7 processor or equivalent (any generation)
Microsoft® Windows® 8, Windows 8.1, Windows 10 1607 and later, or Windows 11 (32 or 64 bit)
4 GB of RAM
Please apply the latest Service Pack for your operating system. Service Packs are available from Microsoft Support.
What happens when my trial ends?
Once your evaluation licence has expired, you can continue using your XJTAG system without interruption by purchasing it. Simply contact your XJTAG distributor to make a purchase to have your hardware licence extended, and you can continue using XJTAG without reinstalling the software.
If you no longer wish to use XJTAG, please return your complete system to us and destroy any copies that you have made.
"XJTAG is not just another boundary scan tool – it goes way beyond that."
Ian Hannant, Senior Test Engineer
Aeroflex