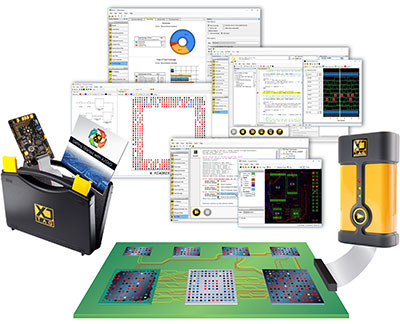 Turnkey JTAG Test Solutions
Let us do your test development for you. Provide us with your board data (netlist, schematic and BOM) and we will produce a complete boundary scan test setup to meet your requirements.
Whether your project is at the prototyping or production stage, take advantage of our years of experience and extensive application knowledge to get to a finished boundary scan test project as quickly as possible. Contact us now »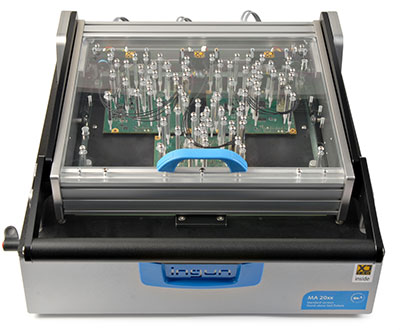 XJTAG offers consultancy services to design and build production test fixtures that integrate JTAG boundary scan with bed-of-nails testing.
The tests are carefully designed to maximise test coverage. We can provide a solution for your existing products, or work with you from the early stages of product design so that your PCBs are optimised for manufacturing test. Find out more »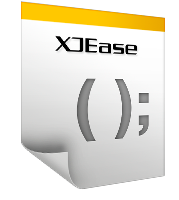 Individual device test development
Contact us if you need a new XJEase device file to complete your test system.
The installed library of XJEase device files contains definitions for many common parts, but if you need to test a device not in our library and don't have time to develop it yourself then let us do it for you. Contact us now »
Advanced test & programming
Access to processor on-chip flash is not possible using JTAG boundary scan. However this flash can often be programmed by accessing the debug registers that can also be accessed through the JTAG interface.
Using XJDirect we can develop the programming routines you need for the processor on your board. Find out more »
Programing flash through boundary scan can be too slow in many applications so let our experts help you achieve programming speeds close to the theoretical maximum for your board.
We use XJFlash to configure your FPGA as a flash programmer and then stream the image to be programmed directly into the FPGA through its JTAG port. Find out more »
Functional test – through your
processor or FPGA
By programming your processor or FPGA you can add non-boundary scan based, at-speed functional tests testing to your XJTAG system.
We can help whether you need help developing such tests or integrating them into your XJTAG system. Contact us now »
Custom applications / programming solutions
Whether you need a custom programming solution or other JTAG functionality, use our engineers' extensive experience to develop your application for you. Contact us now »
Design for test (DFT) review
Let us help you get the best test coverage on your designs. Our engineers will review your initial designs for testability and make suggestions for improvements to maximise test coverage. Contact us now »
BSDL verification
Use our BSDL checking service to make sure that the syntax and semantics of your BSDL files are correct. We can also help in checking the description in your BSDL file matches the boundary scan implementation in the silicon of the in your ICs and ASICs. (We offer this service to manufacturers and designers of ICs.) Contact us now »