XJTAG offers consultancy services to design and build production test fixtures that integrate JTAG boundary scan with bed-of-nails testing.
Obtain a highly efficient solution to your production test needs and benefit from XJTAG's 20+ years of experience in boundary scan technology. Its highly-respected expertise will enable you to get the most from your fixture.
A full turnkey solution can be provided, including fixture mechanics, electronics, and a full set of tests optimised for your Device Under Test (DUT). If you already have a test solution in place, XJTAG can provide specific tests or programming methods to be integrated into your existing fixture.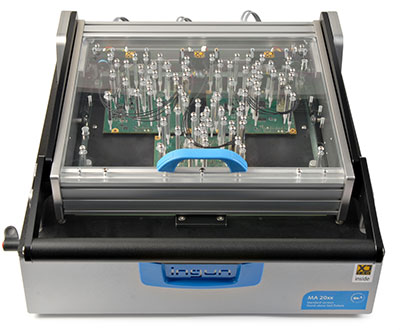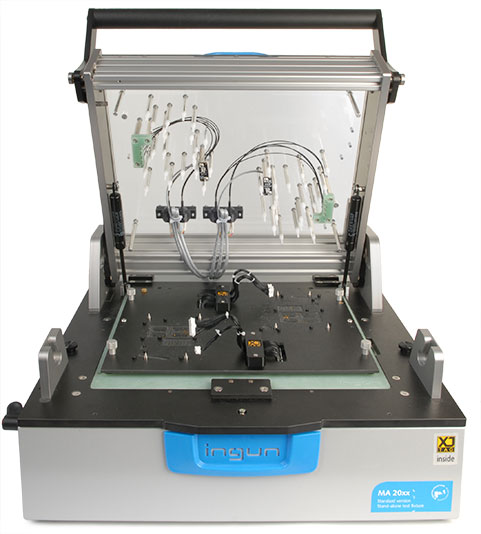 Advantages of Integrating XJTAG Boundary Scan with a
Bed-of-Nails

Tester

Integrating boundary scan with a bed-of-nails tester brings you the following advantages:
Extended test coverage:
boundary scan converts the pins on your board's JTAG devices to "virtual test points", from where it can test many parts of the board for assembly faults, including those that are normally inaccessible, such as the contacts on a Ball Grid Array (BGA). Adding bed-of-nails probing on additional physical test points increases open-circuit detection and maximises test coverage across your board.
Reduced costs:
because this solution tests large proportions of your DUT near the start of the production line, the number of units failing during functional test is greatly reduced, giving a good time (and therefore cost) saving.
Improved fault diagnostics:
unlike functional test, which is often poor at pinpointing the exact location of faults, combined boundary scan and bed-of-nails testing can provide fault diagnostics down to specific nets or pins. This simplifies debug and greatly reduces the size of the bone-pile that can so easily accumulate in functional test.
Simplified testing elsewhere on the line:
because this solution tests much of the board at an early point in the production sequence, functional test can be simplified (which cuts manufacturing test development time and cost), and the use of in-circuit testing (ICT) can be greatly reduced or even eliminated.
No interdependence between tests:
because of how boundary scan works, the board does not need to be fully functional for testing to be performed. This stage can therefore diagnose problems that would prevent functional test from checking the assembled board (PCBA), such as memory issues or clock faults.
What You Can Receive from XJTAG Test Consultancy Services
XJTAG's offerings range from a full bespoke test design service to providing a single test or programming solution for integration into an existing ICT fixture. As an example, typical functionality included in a fixture might be:
Full boundary scan test capability.
Testing of power rails.
Measurement of board current.
Voltage measurements.
Testing the board's external interfaces (such as RS485, CAN, Ethernet etc.)
Clock frequency measurements.
Sensors to measure the colour and intensity of LEDs.
Magnetic field sensors.
Ultra-high-speed flash programming using XJFlash.
If the board has an FPGA, it will be used to facilitate the programming; otherwise, an FPGA embedded in the fixture will be used instead.
Ability to test multiple PCBAs in parallel.
Fixture mechanics can use offerings from your preferred supplier or from manufacturers such as Ingun. XJTAG will customise it to your DUT's specific requirements and supply a ready-to-use test fixture.
The tests are carefully designed to maximise test coverage. We can provide a solution for your existing products, or work with you from the early stages of product design so that your PCBs are optimised for production test.
Contact Us
To discuss your production test needs and how XJTAG Test Consultancy Services can help you, please contact us at enquiries@xjtag.com.