Apprenez comment utiliser la méthode de test Boundary Scan pour améliorer la conception PCB et le diagnostic de défauts de montage, en particulier sur les circuits imprimés comprenant des boîtiers BGA, grâce à une approche de testabilité dès la CAO et la phase de prototypage.
Introduction à JTAG – Concepts, Outils & Conception en Vue du Test (DFT)
L'atelier d'un jour vise à vous permettre de découvrir le test Boundary Scan à l'aide d'exemples pratiques à partir d'une carte de démonstration. Cet atelier s'adresse à tous ceux qui sont actifs dans les domaines de la conception, du développement, du test et de la fabrication de produits électroniques.
Chaque formation est dirigée par un ingénieur d'application terrain très expérimenté, en Anglais. Aucune connaissance préalable de JTAG n'est nécessaire.
Introduction aux normes IEEE 1149.x (Boundary Scan JTAG)
Comment communiquer avec la chaîne JTAG
Outils pour tester des composants compatibles JTAG, p.ex. FPGA et BGA
Introduction générale au test de modules en utilisant la chaîne JTAG
Trucs et astuces pour un schéma compatible JTAG
Recherche d'erreurs pendant le Test de Connexion JTAG
Test de composants non-JTAG (tels que mémoires ou composants Flash) en utilisant le Boundary Scan
Tests de modules dans la fabrication
Uniquement sur inscription. Inscrivez-vous gratuitement pour participer.
(Participation soumise à la disponibilité des places et à la discrétion de XJTAG.) Svp. remplir tous les champs.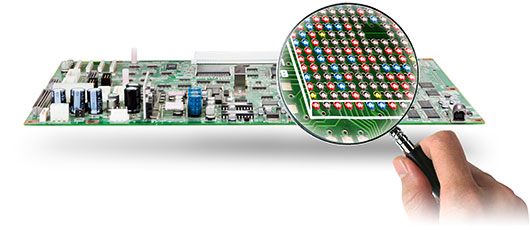 Very much enjoyed the workshop. If only all the free one-day workshops could be as useful, relevant and information-packed as XJTAG's! Having the tools and hardware to play with was invaluable.
Peter Sarginson, Digital Design Engineer, Broadcast Sports International
Formations Boundary Scan dans le monde
XJTAG offre des formations dans le monde entier. Des ateliers précédents ont eu lieu en Afrique du Sud, Allemagne, Chine, Espagne, aux Etats-Unis, en France, Inde, Italie, Pays-Bas, Pologne, au Royaume-Uni, en Roumanie, en Suisse et en Turquie. Si vous êtes intéressé pour participer à un atelier dans votre région, remplissez s'il vous plaît le formulaire ci-dessus et indiquez votre choix de localisation proposée dans le champ « Comments ».