Key Benefits
Confirmation of signal integrity for common interface standards
Increases UUT test coverage with additional interface connectivity
Easy integration into XJEase
Multiple boards can be used in the same project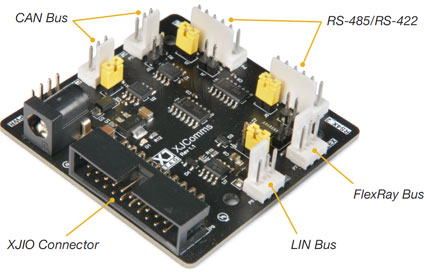 Digital Interface
The 20-way IDC header allows you to control and monitor each of the protocol transceivers. It is pin-compatible with the XJIO Board but could also be directly connected to an accessible JTAG enabled I/O connector on the UUT.
CAN Bus
The CAN (Control Area Network) serial bus was originally developed for use in automobiles CAN has found its way into different applications within modern vehicles, like Body, Safety and Powertrain. Also used in Avionics for cabin systems and instrument control panels (Airbus A380).

Test Control
Signals can be driven to or from the UUT to verify that both digital and protocol signals are correctly connected. Tests are implemented using standard XJEase scripts that are supplied with the card.
Demonstration XJEase scripts available.
RS485/RS422 Bus
The RS485 standard specifies differential data transmission over a terminated twisted pair RS485 is popular for inexpensive local networks, multidrop communication links and long haul data transfer. The use of a balanced line means RS485 has excellent noise rejection and is ideal for industrial and commercial applications.
FlexRay™ Bus
FlexRay™ is a serial, bus system for real-time control applications and is designed for the future  requirements of in vehicle networks. It has now migrated into aviation industry.
LIN Bus
By allowing a basic serial network connection between actuators, sensors or switches and an ECU, the LIN (Local Interconnect Network) bus has tremendously reduced the design efforts and costs for the car manufacturers. It is thus used in a fast growing number of applications, mainly for low speed networking in Body and Interior applications.
Note: This board does not facilitate full speed communication using standard bus protocols, but offers signal integrity connection checks using the bus specific interface signals.