Cambridge, UK, 3 March 2014 — XJTAG has unleashed version 3.2 of its industry-leading boundary scan development system. This major new release extends the concept of boundary scan testing to allow engineers to test boards where they do not have access to a netlist.
The flagship feature of XJTAG's version 3.2 release, the 'no netlist' feature allows users to create projects within XJDeveloper for boards without netlists, using just BDSL files for the JTAG devices. Connections between these devices are derived from a working board and automatically added to the project.
The feature is particularly useful to repair engineers, who are often required to work on boards without having access to a netlist. Where previously they would not be able to use boundary scan, or be delayed by having to seek out these netlists from their customers before beginning any work, testing can now begin without delay. XJTAG boundary scan has never been a more viable option for the repair industry.
The 'no netlist' feature also allows engineers to add non-JTAG devices to these projects, simply by specifying how they are connected to the JTAG devices on the board. They can then be tested using XJEase Library files, which improves test coverage and saves the time and effort otherwise required to physically test these devices using probes.
With the 3.2 release, XJDeveloper now also contains a graphical debugger, for use when developing XJEase code. Standard debugger features such as breakpoints and a watch window for monitoring and changing XJEase variables will help improve efficiency when developing new tests.
Of XJTAG 3.2 Simon Payne, CEO XJTAG, says 'The new release builds on XJTAG's focus on ease-of-use and high productivity, giving the engineer even more control of the test development process while reducing lead times and boosting test coverage'.
XJTAG 3.2 is available now at www.xjtag.com.
Thinking about boundary scan? Take a 30-day, full-featured trial and see what XJTAG 3.2 can do for you.
XJTAG is a worldwide leading supplier of IEEE Std. 1149.x compliant boundary scan tools, which focuses on innovative product development and high quality technical support. The company has its headquarters in Cambridge, UK, as well as an office in Boston, MA, USA, and works closely with over 50 experienced and professional distributors and technology partners across the globe. XJTAG delivers a diverse range of boundary scan test solutions for clients across a wide range of industries, including aerospace, automotive, defence, medical, manufacturing, networking, and telecommunications.
Image (click for high resolution)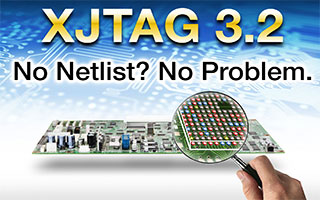 XJTAG opens up to the repair market with major new 3.2 release