Cambridge, England / Munich, Germany, February 09, 2009 — Boundary scan solutions have traditionally been considered so expensive that Small-to-Medium Enterprises (SMEs) could only rarely afford them. In Germany, the world's 3rd largest economy and heavily reliant on its engineering, manufacturing and automotive sectors, roughly 70% of the working population is employed in an SME. With its transparent and calculable price policy, XJTAG (www.xjtag.com), a leading supplier of IEEE 1149.x compliant boundary scan development systems, provides cost effective solutions that can be used throughout the entire product life cycle – from design development to test and production.
XJTAG's Development System incorporates a suite of individual tools used worldwide by design engineers, developers, OEMs and contract manufacturers for debugging, testing and programming complex and densely populatedprinted circuit boards (PCBs) and systems. To make the many benefits of boundary scan accessible to small and mid-sized companies, XJTAG has developed various training, pricing, licensing and support initiatives including:
Self-contained licensing of the re-configurable XJLink, a USB to JTAG connector, with which customers can use the XJTAG system on multiple UUTs making it ideal for lab and field work.

30-day free evaluation period including XJAnalyser, XJEase, XJDeveloper, XJRunner, XJLink and XJDemo board & Tutorials.

Free board Setup and 30-day evaluation with no obligation to purchase.

Free XJTAG boundary scan workshops provides a practical, hands-on introduction to boundary scan.

XJTAG's new corporate licensing plan which includes a five-year price promise, support, maintenance and annual upgrades.
"Our mission is to make possible the adoption of boundary scan as an effective test methodology in companies who, until now, considered it to be out of their price range." said Simon Payne, CEO of XJTAG, and continued, "We fully understand the desire to 'try before you buy' with an unfamiliar technology and also the necessity for transparent pricing and cost control in the current economic climate."
In October of 2008 XJTAG appointed FlowCAD, a renown EDA specialist founded by former Cadence Design Systems employees, as its distributor for the German-speaking markets. Dirk Müller, founder and CEO of FlowCAD, also commented: "Our entire customer base, but especially the smaller companies we support, highly appreciates the ability to calculate overall costs and test XJTAG's boundary scan system in advance of making an investment decision."
Pricing for XJTAG's solution ranges from €6,000 to €18,000.
Market leading companies such as ARM, Aeroflex, Curtiss-Wright, Thales and Westinghouse Rail Systems rely on XJTAG's solutions. More detailed information on customer's implementations are available here: www.xjtag.com/case-studies or by contacting FlowCAD in Germany.
FlowCAD contact details: FlowCAD EDA-Software Vertriebs GmbH, Mozartstraße 2, 85622 Feldkirchen bei München. Tel. +49 (89) 4563-7770, Fax. +49 (89) 4563-7790, Email: xjtag@FlowCAD.de, Website: www.flowcad.de.
XJTAG is a leading global supplier of IEEE Std. 1149.x compliant boundary scan development systems. XJTAG offers a highly competitive solution for designers and developers of electronic printed circuit boards and systems. Utilising XJTAG allows the circuit design, development and manufacturing process to be shortened significantly by facilitating early development of reconfigurable and re-useable test scripts that can be used from design validation through prototype debugging and on into manufacturing.
The XJTAG development system enables engineers to debug and test a high proportion of the circuit (both JTAG and non-JTAG/cluster devices) including BGA and chip scale packages, such as SDRAMs, Ethernet controllers, video interfaces, Flash memories, FPGAs and microprocessors. XJTAG also enables In-System Programming of FPGAs, CPLDs and Flash memories, and XJTAG clients have access to a library of device-centric test scripts.
XJTAG is based in Cambridge, UK, and is part of the Cambridge Technology Group. XJTAG has a global network of distributors servicing Europe, the Far East, North and South America, the Middle East and Australasia.
Specialised on sales & support of professional CAD software. We offer a work flow including IC and PCB design, EMI and reliability simulation. With a valid maintenance contract you get latest software updates and knowledgeable user assistance.
Images (click for high resolution)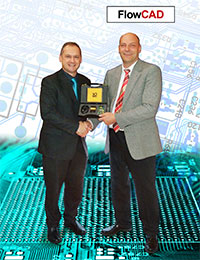 XJTAG's CEO Simon Payne with Dirk Müller, founder and CEO of FlowCAD