XJTAG announces the opening of its first overseas office in Waltham, Massachusetts.

XJTAG CEO meets Governor of Massachusetts during his Massachusetts Innovation Economy Partnership Mission 2011.
London, England, March 22, 2011 — Last week at the Mansion House, XJTAG announced the opening of its first overseas office in Waltham, Massachusetts, USA. Massachusetts Governor, Deval Patrick, congratulated XJTAG CEO, Simon Payne on the company's investment.
The City of London hosted last week's networking reception to mark the Governor's visit. Governor Patrick was visiting the UK as part of his Massachusetts Innovation Economy Partnership Mission 2011.
"This is a significant step for XJTAG. It will be the first office XJTAG has opened outside of the UK," said Simon Payne CEO, XJTAG. "We have long-term plans to grow our US business. Massachusetts is the ideal location for us with excellent transport links, both nationally and internationally and boasts a significant cluster of high-tech businesses and technology graduates.
"Currently enjoying an annual growth of over 40%, XJTAG is delighted to increase its presence in the US with a new office in Massachusetts. This will help us develop and support our growing client base."
Massachusetts and the UK are key partners across technology, business, research and innovation. Governor Patrick is seeking to extend the commercial links between the UK and Massachusetts in these areas.
Governor Patrick said, "We are delighted to hear of XJTAG's plans to open an office in Massachusetts. The Commonwealth is a world leader in hosting the industries of tomorrow and the home of a growing innovation economy."
XJTAG, a Cambridge-based company, will join the 225 UK-owned companies in Massachusetts, which currently employ 40,100 state residents. Both Massachusetts and the UK boast thriving technology, life sciences and clean energy economies.
XJTAG's client base includes ARM, Aeroflex, Advanced Relay Corporation, Curtiss-Wright, Diagnosys, QSI Corporation, Imagination Technologies, Rheinmetall Air Defence Group, Thales and many others.
XJTAG contact details: XJTAG, St John's Innovation Centre, Cowley Road, Cambridge CB4 0WS, UK.
Telephone +44 (0) 1223 223007, fax +44 (0) 1223 223009 or email enquiries@xjtag.com. Alternatively, visit www.xjtag.com.
XJTAG is a leading global supplier of IEEE Std. 1149.x compliant boundary scan development systems. XJTAG offers a highly competitive solution for designers and developers of electronic printed circuit boards and systems. Utilising XJTAG allows the circuit design, development and manufacturing process to be shortened significantly by facilitating early development of reconfigurable and re-useable test scripts that can be used from design validation through prototype debugging and on into manufacturing.
The XJTAG development system enables engineers to debug and test a high proportion of the circuit (both JTAG and non-JTAG/cluster devices) including BGA and chip scale packages, such as SDRAMs, Ethernet controllers, video interfaces, Flash memories, FPGAs and microprocessors. XJTAG also enables In-System Programming of FPGAs, CPLDs and Flash memories, and XJTAG clients have access to a library of device-centric test scripts.
XJTAG is based in Cambridge, UK, and is part of the Cambridge Technology Group. XJTAG has a global network of distributors servicing Europe, the Far East, North and South America, and Australasia.
Image to accompany this news release
(click image for higher resolution)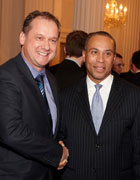 XJTAG CEO Simon Payne (left) with Deval Patrick, Governor of Massachusetts (right).
Photograph by Clive Totman. Image is licensed for editorial use only.