New corporate licensing model offers a five year price promise to help businesses plan for the cost of boundary scan equipment

Boundary scan development systems reduce board development time and cost
CAMBRIDGE, England, October 22, 2008 — XJTAG has launched its new corporate licensing plan to enable clients to spread the cost of boundary scan design, development and test equipment. The new licence plan, which includes a five year price promise, as well as support, maintenance and annual upgrades, is designed to help customers expand their capabilities while keeping a handle on costs.
The XJTAG deal supplies licences at a cost effective price. Providing access to multiple licences enables a team to work effectively and intensively to extract the maximum benefit by cutting circuit development time and providing a clear time to market advantage. The licensing plan is scalable, giving businesses the opportunity to increase or decrease the number of licences it holds after the first year, according to the company's requirements.
The pricing solution is part of XJTAG's ongoing bid to provide clearly priced and high quality boundary scan solutions. XJTAG's IEEE Std. 1149.x compliant boundary scan development system is a cost effective solution for the entire product lifecycle.  It is used worldwide by design engineers, developers, OEMs and contract manufacturers for debugging, testing and programming complex ball grid array populated printed circuit boards (PCBs) and systems.
Simon Payne, CEO of XJTAG, commented, "Our corporate licensing plan is designed to provide our growing corporate customer base with a means of expanding their boundary scan capability whilst at the same time keeping a tight control of costs during the current economic turmoil."
The new licensing model has been successfully beta-trialled with a number of XJTAG's existing clients and is available now across the entire product range.
For more information about the XJTAG's corporate licensing plan, please contact XJTAG, St John's Innovation Centre, Cowley Road, Cambridge, CB4 0DS, UK. Telephone +44 (0) 1223 223007, fax +44 (0) 1223 223009 or email enquiries@xjtag.com. Alternatively, visit www.xjtag.com.
XJTAG is a leading global supplier of IEEE Std. 1149.x compliant boundary scan development systems. XJTAG offers a highly competitive solution for designers and developers of electronic printed circuit boards and systems. Utilising XJTAG allows the circuit design, development and manufacturing process to be shortened significantly by facilitating early development of reconfigurable and re-useable test scripts that can be used from design validation through prototype debugging and on into manufacturing.
The XJTAG development system enables engineers to debug and test a high proportion of the circuit (both JTAG and non-JTAG/cluster devices) including BGA and chip scale packages, such as SDRAMs, Ethernet controllers, video interfaces, Flash memories, FPGAs and microprocessors. XJTAG also enables In-System Programming of FPGAs, CPLDs and Flash memories, and XJTAG clients have access to a library of device-centric test scripts. XJTAG is based in Cambridge, UK, and is part of the Cambridge Technology Group. XJTAG has a global network of distributors servicing Europe, the Far East, North and South America, the Middle East and Australasia.
Images (click for high resolution)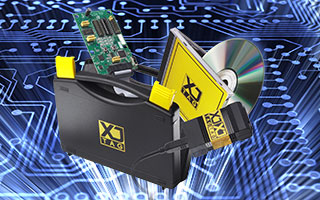 New licensing model launched by XJTAG