The licences for XJTAG software reside in the XJLink2 JTAG controller and permit multiple instances of the software to run on the connected PC. You can use this to reduce your costs when testing boards in parallel because it allows them to be tested using a single software licence.
XJLink2s can either be purchased containing software licences or as lower-cost auxiliary units that contain just a hardware licence (and allow free use of the JTAG Chain Debugger application). To test multiple boards from a single PC, you can use one XJLink2 with a software licence and the remainder can then be auxiliary units, providing a substantial cost saving.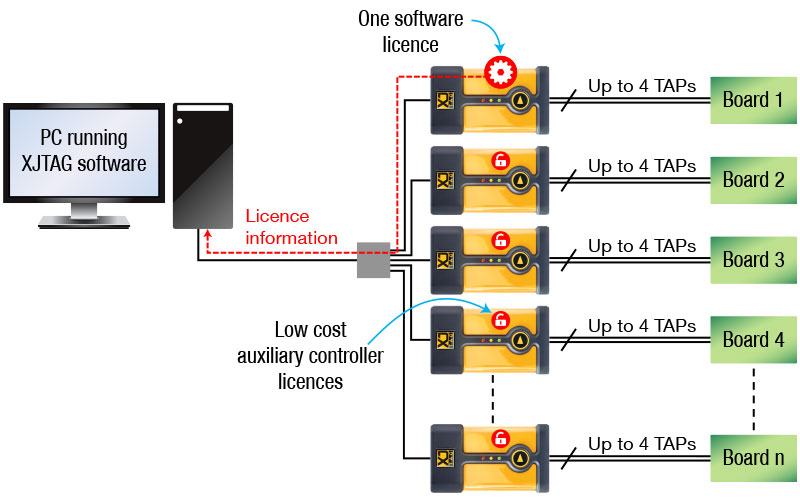 XJQuads are licenced using one software licence and three hardware ones as standard; they are useful for testing up to four boards in a single jig. However, when the boards being tested are distributed across multiple jigs, it is better to use several XJLink2s to keep the JTAG cables short to maintain signal integrity. In that case, use one XJLink2 with a software licence and auxiliary units for the remainder. The practical limit for the number of boards that can be tested in parallel is dependent on the PC's processing power; six to twelve boards tends to be realistic.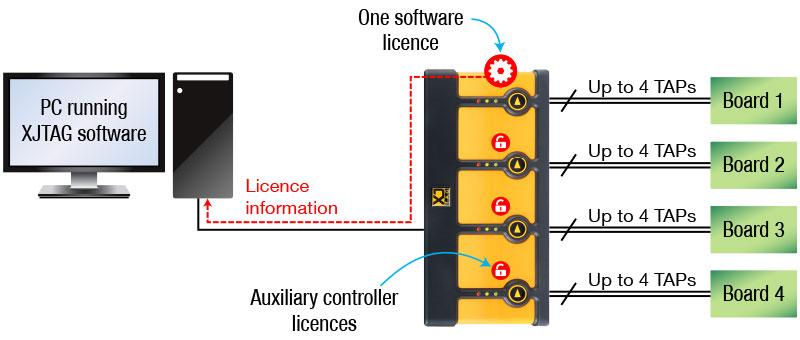 All versions of the XJLink can be purchased as auxiliary units, whether they are USB, PXI, or designed for specific ICT machines.